Welcome
Thank you for visiting our website. You may be visiting for any number of reasons. Perhaps you are exploring the possibility of worshipping with us; maybe you are looking to be married, or to have a baby baptised. Whatever the reason, we want to welcome you to this site, and we look forward to welcoming you into the church. We are a family friendly growing church and value every person as uniquely made in the image of God. The church is active in reaching out to the wider community with the love of God and in spreading the gospel message of love and hope through Jesus Christ. We seek wherever possible to help those in need in the community and beyond through prayer and in various practical ways. Those who wish to are lovingly encouraged to become involved in both the life and worship of the church but there are also church members who prefer to just come along and 'be still before God' , all are equally welcomed and valued.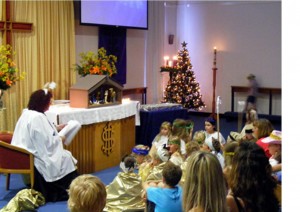 Our main church service is on Sunday at 9.00 am. Our aim is to offer a wide spectrum of both modern and traditional worship that provides for all ages. Whatever your own personal preference we are sure you will find a warm welcome and we look forward to meeting you.
We would love to welcome
you into our Church Family. It is our belief that everyone is on a spiritual journey, a journey that involves questions, difficulties, highs and lows. We take our faith seriously but that doesn't mean we can't have some fun along the way!
What to expect on your first visit
Our main service is at 9.00 am on Sunday. At our services we will sing songs which we call worship. It's a time to connect with God in a relevant way. If you don't feel comfortable joining in, then please don't! We realise that everyone is at different points in their spiritual journey, and you are welcome here, no matter where you are at with God. At our services we hear relevant talks on life, family, relationships, spiritual issues and purpose. You'll hear stories and be offered spiritual insights into why Jesus is so relevant in our world today. We will also pray. Prayers are led from the front and again, if you don't feel comfortable joining in, then don't! We will take up an offering, which is when people in the church give money to resource our work in the community and church. There is no obligation for you to give – you are our guest! We also share communion. You are welcome to come forward to the altar rail and receive a blessing from the minister or if you are a communicant member of a mainstream Christian church receive communion. Children are really important to us and during term time are led by trained and energetic leaders in our Sunday Club and join us again as we prepare to share communion. You are welcome to stay with them for the first week or so, or just check it out for yourself first.
I need some help
If you need someone to talk to or pray with then we are here to help. Life can be tough and we all go through times of difficulty and struggle. The important thing is that you know you don't have to go through this alone. To have a private and confidential chat with our Rector or one of our care team, contact our church office and we will be sure to put you in touch with the right person.
How Do I Meet People?
Holy Cross is not a place for spectators. It is a place for team members. Whether you are a five-year old child, a ninety-five year old grandmother, a busy mum, or a businessman with big responsibilities, we want you to be a part of our vibrant church community. Here is how you can learn, serve, and grow at Holy Cross Melville.
Small Groups
Often, small groups of people are better able to interact and learn about a topic than larger groups are. For that reason, we hold small bible studies in members homes. The size of the group is anywhere from six to twelve. At a time, designated by your group, you can participate in the small group study. Throughout the year at Lent for example special groups are set up for a short period for specific study. You may well find one of these useful.
Children's Ministry
Holy Cross has a strong focus on the family and our Childrens Ministery team would love to welcome you. The roles required to be filled are many and varied, from leading one of the groups to baking cakes to shifting furniture.
Mothers Union
We have an active Mothers Union group here at Holy Cross who would love to invite you to their meetings. http://www.muaustralia.org.au/
Media Team
We have a small but enthusiastic media team who assist with the service each week by providing the audio visuals for worship. This website is also the responsibility of the media team. If you have experience in this area or are a novice with an interest you might consider joining the team.
Socials and Jumbles
A great way to get to know and to serve the community is to become involved in our Events Team. Throughout the year we have Jumble Sales, Fetes, Quiz Nights and Fashion Shows all of which are ideal oppourtunites for you to become involved in the life of the church.
Music
We love music at Holy Cross but are sadly lacking in musical ability. If you have talents in this area they can be be put to very good use.